Vinyl Lettering and Graphics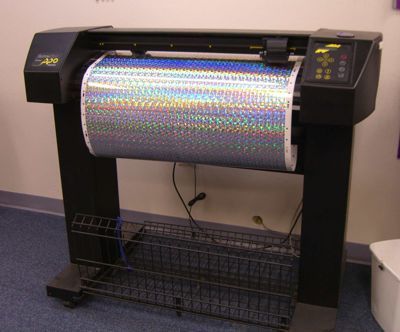 Computer-cut self-adhesive vinyl is just the ticket for long lasting, vivid spot color for window and vehicle lettering, promotional signs, menu boards, indoor and outdoor banners, posters, ...almost any smooth, non-porous surface. Suitable text can be cut down to a one half inch height or smaller.
We cut vinyl on either a 30" inch and 54" wide plotter, allowing large graphics without seams (subject to roll widths). Most solid color vinyl comes in 15, 24 or 30 inch wide rolls depending on the vinyl type while much of the digitally printed media comes in 54 inch wide rolls. We stock many standard colors of vinyl and can special order other colors and sizes. Vinyl is not, however, available in an infinite variety of colors, but typically comes in several shades of each color. We'll be happy to show you the colors we stock and are able to order, and can provide you with the approximate vinyl color references to Pantone® colors. Vinyl can be supplied "ready to apply" on backing paper, or we can apply it to a variety of materials including coroplast, PVC, aluminum, and acrylic.
Full color digitally printed decals can also be computer plotted into circles, ovals, rectangles or full custom contour cut, subject to the plotting limitations of the material being used. Automated optical alignment matches up the decal printing and cutting processes, even after lamination.